Tips and Tricks to Teach Your Children How to Make Their Bed

Penny Rogers
February 5, 2023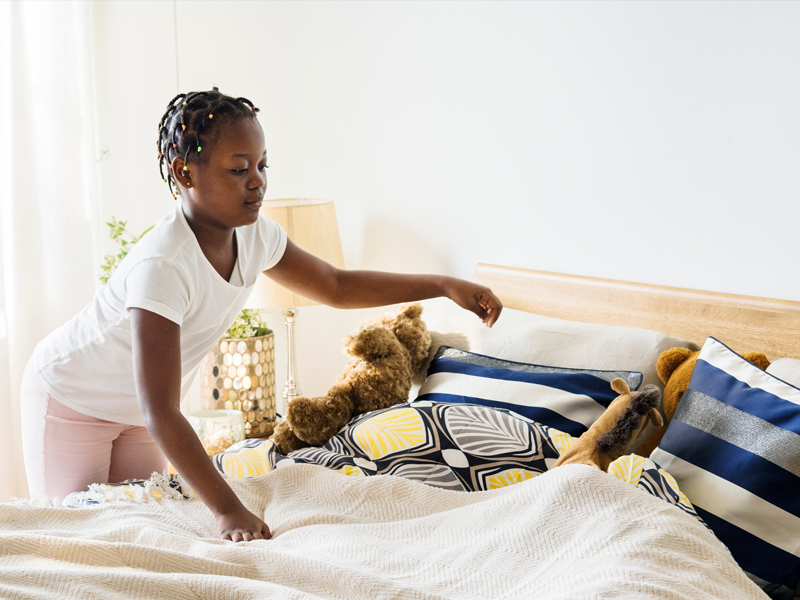 Is your child struggling with how to make their bed? Here are some tips and tricks to teach your children how to make their bed successfully and in a fun way!
Sometimes teaching kids basic chores is like pulling teeth. Making a bed is no different but a tidy bed does truly pull a room together and makes bedtime easier. But there's no reason making beds should all be moms job. While how much each child can do varies by age and ability even the youngest child can learn to make their bed.
Reduce the clutter.
Kids have a tendency to cover their beds with stuffed animals and pillows. Find a storage solution for all of those extras that will get them up off the bed. A stuffed animal hammock is a great option to get stuffed animals and such up off the bed so kids can tidy it up themselves without taking all day.
Start while your kids are young.
Teach them to lay out their blankets neatly. For young children, it is easier to leave out the flat sheet. A fun printed blanket your child loves and wants to see so it is easier to get them to be excited about straightening it out. Use sheet grippers to keep young children's sheets on the bed so you don't have to fix them every morning.
Start slowly with sheets!
When it comes time to teach your child how to change the sheets themselves start out slow. When you change your young child's sheets have them watch you. Having them hold their pillow and blanket to keep them off the ground is a great way to keep young children in the room.
Things get easier as your kids get older.
Have your child help you put sheets on the bed starting with the easy to reach corners. Progress slowly until your child is doing the sheets with you just supervising and answering questions. If you prefer to use top sheets this is the time to start adding them to your child's bed so they can start laying it flat along with their blanket each day.
After your child has learned to make their own bed take time each day to ensure the chore got done until they have built up the habit of making their bed without you.
Life Skills Encouragement for Parents
Skill building is a life-long endeavor in our family. We recognize that providing a set of materials for individual lessons only goes so far. Our overall mission at SkillTrek is to support life skills and character development. Much of our blog content highlights the convergence of these topics to help your family to flourish.